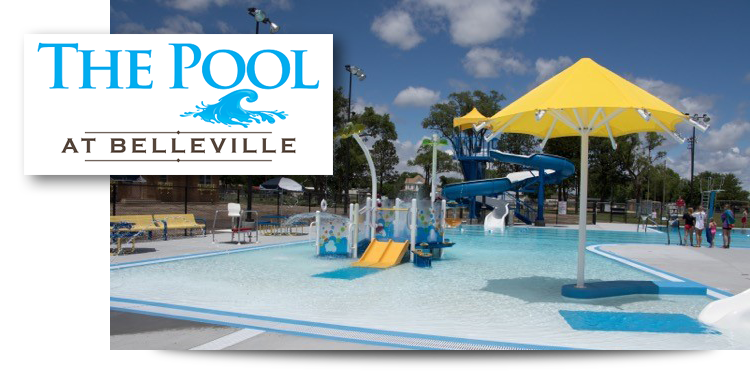 The New Belleville Municipal Swimming Pool is located on the south side of the City Park, along 9th Street. Built after the pool season ended in 2015, the new pool offers a variety of amenities. A larger slide, a 3 meter diving board and a play area for toddlers are a few of the new items for the community to enjoy this season. Life guards are Red cross trained, and offer swimming lessons shortly after opening for the season. A new splash ground has also been added in conjunction with the pool, that will be free and open during the summer season. These improvements were made possible by the approval of a 1/2 cent sales tax increase in the City of Belleville. Thanks to the community for supporting this project!
The Belleville Municipal Pool can be rented for group parties. The cost per party is $65.00 per hour, for any number of attendees. Please contact the pool at 785.527.7167 for more information.
The Pool at Belleville
1321 9th Street
Belleville, KS 66935
Phone: 785.527.7167
2021 Hours
Weekdays 1 pm – 5:30 pm,
6:30 pm – 8:30 pm
Weekends 1 pm – 8 pm
Fair Week: August 2 - August 7
1 pm – 4 pm, Tuesday - Saturday
2021 Rates
Under 3 years: Free
Single Day Pass: $2.00
Single Season Pass: $50.00
Family Season Pass: $100.00
Adult Swim: $1.00 per day, M-F 5:30-6:15 p.m. Free with passes.
Midnight Swim: $2.00, Friday nights in July 10:00-Midnight, No Passes accepted, No midnight swim on Friday night of the Fair.
Water Aerobics: $2.00 per session, $25 for the season. Tuesdays and Thursdays, 5:30 - 6:15 p.m., June 8th through July 29th.
Pool Party Rental: $65.00 per hour. No parties during Fair Week
Concessions
Available
2021 Swimming Lessons
June 21 through July 1 (excluding Saturday and Sunday): $15.00 per swimmer (ages 4 and up)
9:00-9:45 Levels 4, 5, 6
10:00-10:45 Levels 1, 2, 3 (includes Rec Bus)
11:00-11:45 Levels 1, 2, 3